In a prior publication titled "Top Accounts Payable Trends to Look Forward to in 2023", experts at Expertise Accelerated highlighted some trends to look out for going forward regarding accounts payable management. However, accounts payable management is not as simple as some may make it out to be. Implementing policies and adapting to upcoming trends is easier said than done, and typically takes a few months to optimize and fit the business needs. Entrepreneurs just starting out have a golden opportunity to build their AP processes according to the projected trends. Thus, eliminating the need to change from a more archaic methodology going forward. A firm foundation built on the latest technology and process methodology will last long and yield great returns. 
Established businesses likewise have a good opportunity at the start of the year to get their accounts payable management and processes sorted to endure the incoming inflationary onslaught of 2023. With that said, let's look at 5 basic accounts payable management tricks that align with the shifting trends and can help businesses get a running start into 2023.
Simple and Effective Accounts Payable Management Tricks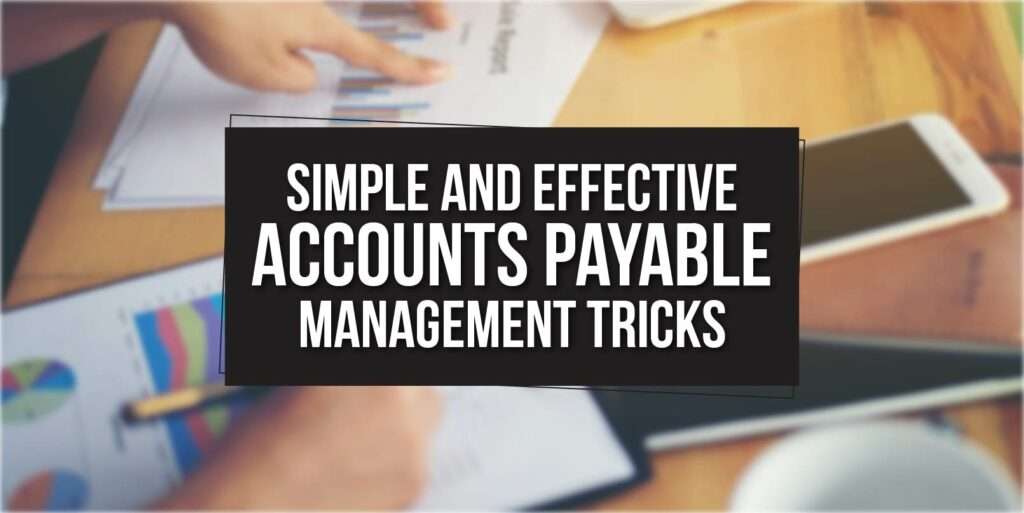 Map Out the Accounts Payable Process
Many small business owners do not visually map out their processes to get a better picture of the workflow. This is a massive misstep because it opens the business up to the risk of inefficient processes. Think about it this way; would it be easier to understand how a process like accounts payable operates as a workflow diagram, or as a paragraph of written instructions? 
A workflow diagram of the accounts payable process can help entrepreneurs identify potential bottlenecks. For example, if a bill requires one member of the core team's approval to be paid, then the process stops if that member is unavailable. Identifying accounts payable challenges and taking remedial action fast makes workflow analysis a formidable tool in your tool belt. 
Automation is Your Best Friend
AI and automation technology are (and will be) a huge part of the accounting profession in the future. Most businesses do not have a big team of accounting professionals to give ample time to every accounting need instead opting for one dedicated accountant to manage the entire accounting function. With the help of technology such as accounts payable management software, the mundane parts of the accounts payable process can be delegated to an AI assistant, freeing up the accounting function's hands to focus on other matters of strategic importance. These mundane operations can be replaced by AI in the workflow diagram we discussed earlier and can clearly show how much time and money the business saves by investing in such technology in the long run. 
One of the other boons offered by automation is accuracy. AI is not prone to human error, and by integrating the accounting system with accounts payable management software; invoices and receipts can easily be recorded and tracked without any risk of input error. 
Take Advantage of Discounts
Many suppliers tend to offer discounts for early payments, which can be very advantageous if leveraged strategically. Negotiating longer payment terms with the supplier makes it easier to avail of these discounts more frequently as you have a longer window to pay the bill. Walmart is an example of a company that works directly with suppliers to negotiate lower prices. It uses cost-saving initiatives such as reducing packaging costs or improving supply chain efficiency.
In the same line of logic, it is important to stay vigilant of the supplier market as a whole. Your current supplier may have been a long-term acquaintance, but that is no cause to remain complacent and not search for greener pastures. By keeping tabs on the competition, you can leverage this knowledge with your supplier to cut a more favorable deal or switch over to a better alternative should they refuse to negotiate. However, this is a delicate matter to balance, as it can impact the business' reputation among suppliers. Treading carefully is advised. 
Monitor the Cash Flow
One of the bigger accounts payable challenges is knowing when to pay bills. Therefore, it is an important duty in accounts payable management to regularly monitor the business' cash flow to understand its financial standing and make informed decisions on bill payments. One of the best tips is to stay vigilant with the accounts payable aging report, which, as defined by Fit Small Business, "shows all unpaid vendor invoices grouped by the number of days they're overdue if any." 
Simultaneously monitoring the business's cash flow and accounts payable aging report, entrepreneurs can steer clear of late payment fees and ensure that the business has the necessary funds to pay the bills on time.
Focus on Supplier Relationship Management
Supplier Relationship Management (SRM) is of special importance among the prominent accounts payable trends going forward. After the covid-19 pandemic and all the supply-chain issues that permeated the business landscape years later, it is now more important than ever to have amiable relationships with suppliers. 
Paying bills on time, not being difficult in negotiations, being flexible and simply being professional and well-spoken when dealing with suppliers can completely change the game. For example, suppose the vendors and suppliers are on good terms with the business, then in cases of emergencies such as supply-chain delays or financial trouble, the business may be able to, as a favor, extend the due date of bills or receive supply through the supply-chain delays. These little advantages here and there can snowball into great long-term benefits for the business. If the incoming inflationary spell is anything to go by, US businesses need every little help they can get to make it through to the other side. 
Leveraging Outsourced Accounts Payable Services
While these accounts payable management tips are certainly quite helpful for entrepreneurs preparing for 2023, there is an alternative to consider when it comes to implementing these tricks and polishing up the accounts payable process: outsourcing. 
Outsourced accounts payable services can prove to be massively advantageous to a business in 2023. For one, outsourced remote professionals cost far less than their in-house counterparts. On top of that, they allow the business to entirely subvert the hiring process and skip to hiring a trained accounting professional straight away. 
Expertise Accelerated's Outsourced Accounts Payable Services
Expertise Accelerated is a Connecticut-based outsourcing and staff augmentation services provider in the accounting & finance and supply chain fields. EA provides US businesses with the unique opportunity to connect with the global accounting talent pool and select offshore remote talent to integrate into their team. 
EA's outsourced accounts payable services also provide access to the sage advice of CEO Mr. Haroon Jafree (CPA), a seasoned veteran of the US accounting industry who specializes in business process reengineering. Mr. Haroon has a proven track record of completely revitalizing and optimizing business processes such as accounts payable, and alongside his vetted and trained team of remote accounting professionals can give US businesses the competitive edge they need to stay in the competitive race going forward!