Outsourcing has evolved to become a mainstream business practice which companies worldwide are leveraging as a means and method to achieve cost and process efficiencies. As the outsourcing industry booms with leaps and bounds, the number of outsourcing service providers keeps on mushrooming. However, despite the immense benefits associated with outsourcing, the client companies need to be cognizant of and sensitive to the need for making the right choice when it comes to selecting the outsourcing partner and the type of service required, i.e. outsourcing, selective outsourcing or staff augmentation.
What Is Meant By Outsourced Accounting Service?
Outsourced accounting services refer to accounting & finance functions that have been outsourced in full or in part to a third party.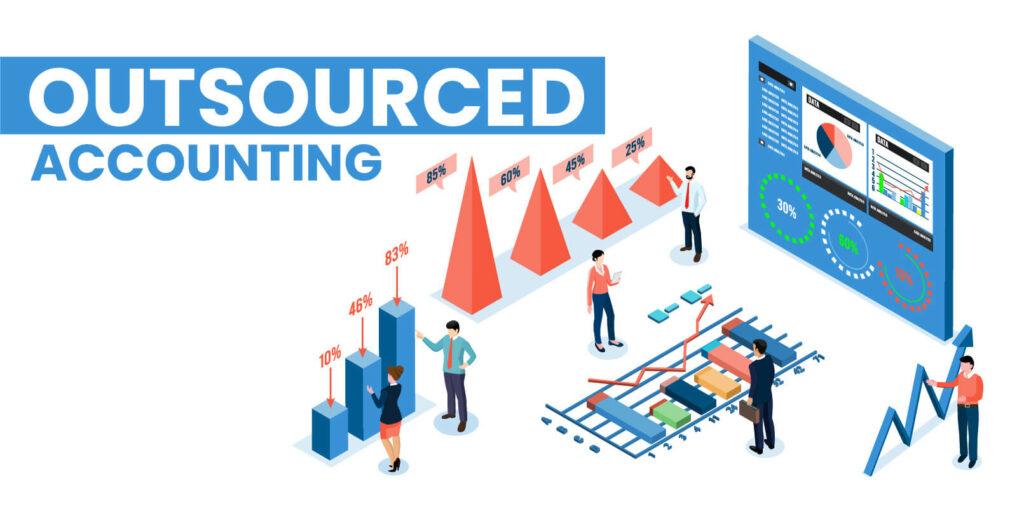 Accounting & Finance Services
An accounting service includes all operations – direct or ancillary – that are responsible for or contributing to the recording, maintenance, measurement, processing and communication of financial information of a legal business entity.
Outsourcing
Outsourcing and co-sourcing or staff augmentation primarily involve subletting of tasks to third parties at terms that are a win-win for both sides.
How Common Is Outsourcing With Accounting & Finance?
Formerly, the norm was to have an in-house accounting & finance function/department run by employees who were usually accountants either by virtue of their profession or experience.
However, the trend of outsourcing accounting & finance functions, either in full or in part, grew over the course of time.
According to Fortunly, "Almost 54% of all companies use third-party support teams to connect with customers and 71% of financial service executives outsource or offshore some of their services."
Drivers of Outsourcing
The key drivers behind outsourcing accounting & finance services are the immense benefits in the form of cost savings, import of specialized skills and expertise, data storage and protection, and redirection of resources into core operations.
Today, outsourcing remains a key practice in the industry, including key consumer industries, such as the CPG and Food & Beverage.
Selective Outsourcing Is In Trend
According to TechTarget, "Selective outsourcing is a targeted sourcing strategy that relies upon sending very specific functions and work off-premises while keeping other functions on-premises. Off-premises work can be performed either offshore or onshore."
Selective outsourcing vs staff augmentation

Before we discuss how selective outsourcing is growing as a popular trend within the outsourcing industry, it is pertinent to clarify here that selective outsourcing and staff augmentation are two different concepts, not to be perceived and used interchangeably.
Toptal defines staff augmentation as, "Staff augmentation is the use of outside personnel on a temporary basis to augment the capacity of your organization."
The definition above implies that staff augmentation involves the import of man hours or expertise from a third party – the outsourcing or co-sourcing partner – in response to capacity bottlenecks within the organization. Conversely, outsourcing or selective outsourcing – as the case may be – involves exporting one or more business process or processes to a third party for reasons not strictly restricted to capacity bottlenecks.
How Popular is Selective Outsourcing Today?
Accounting & finance were traditionally seen as support functions, but the evolution of business dynamics and practices in the corporate sector have added a strategic lean to it.
Even though hiring outsourced accounting & finance firms and professionals remain common today, the practice of Selective Outsourcing dominates the arena.
According to a research by P. Everaert – a member of the Faculty of Economics and Business Administration from the Department of Accounting and Corporate Finance at Ghent University in Belgium – titled SOURCING STRATEGY OF BELGIAN SMES: EMPIRICAL EVIDENCE FOR THE ACCOUNTING SERVICES, designed as a postal survey sent out to 1200 managers in Belgian small and medium-sized enterprises, at least 53% were found to be using Selective Outsourcing.
Outsourced Accounting & Finance Services in the United States
Outsourcing of accounting & finance services has surged in the US as well with outsourcing firms delivering services to both domestic and overseas clients.
The COVID-19 pandemic in particular reinforced the benefits of outsourcing, during which the small and medium-sized enterprises that were formerly shying from hiring outsourced, offshore or remote resources started joining the league of companies with outsourced accounting & finance.
Quoting a new market study published by Global Industry Analysts Inc., (GIA), Newswire stated: "The Finance and Accounting Outsourcing market in the U.S. is estimated at US$18.3 Billion in the year 2021. The country currently accounts for a 45.7% share in the global market."
Outsourcing Is The New Normal
While the pandemic caused huge collateral loss worldwide, it reshaped the social and work-life – reinforcing global values of diversity, inclusiveness, equality and tolerance that has remote working, outsourcing, co-sourcing or staff augmentation, and offshoring at its fundamentals.
Cautions With Outsourcing Accounting & Finance
Outsourced accounting & finance services continue to become mainstream in the US with organizations pursuing savings and expertise in an economy that is persistently growing complex and inflationary.
However, organizations aspiring to outsource their accounting & finance need to exercise a few cautions and watch for a few pitfalls, because the success of outsourcing services depends largely on the choice of the outsourcing partner and terms of the outsourcing arrangement.
The outsourcing partner!
Yes, by now, we are all convinced that outsourcing accounting & finance functions in full or in part can bring about tremendous benefits, but the next question is: who to outsource to?
In fact, there is no dearth of outsourcing firms claiming to provide accounting and finance services, but the choice of outsourcing partner depends on a few key considerations.
Since outsourcing of accounting & finance functions in full or in part is a major decision and in fact a strategic one, I must say, a detailed initial screening should be carried out before making the final choice.
The Litmus Test
The following criteria, or a selection framework, may not be an exhaustive one, but is detailed and refined enough to serve as the litmus test for filtering out the best-fit outsourcing partner for you.
Does your outsourcing partner have the capacity to at least substitute the in-house expertise or preferably add value?
Is your outsourcing partner offering these services at terms that are mutually beneficial?
Is your outsourcing partner well-reputed, credible and reliable?
Is your outsourcing partner stewarded by renowned professionals or industry stalwarts who have a high stature in the industry?
Does your outsourcing partner have niche expertise that can compound or complement the in-house skills set?
Does your outsourcing partner possess a proven track record or success portfolio to showcase?
Can your outsourcing partner claim to bring down payroll costs?
Can your outsourcing partner commit to quality assurance and support services, etc.?
This means that the decision to outsource should only come in the face of strategic, tactical or operational gains, failing which it is advisable to keep this high profile function in-house.
It further implies that an outsourcing contract should only be entered into if you have found the "right" outsourcing partner for your organization.
Expertise Accelerated as your outsourcing & co-sourcing/staff augmentation partner
Based in Greenwich, Connecticut, Expertise Accelerated is an outsourcing & co-sourcing/staff augmentation specialist led by C-suite–level US industry experts leveraging a global talent pool to deliver quality-assured–60% payroll savings.
Expertise Accelerated (EA) CEO Haroon Jafree is a Certified Public Accountant. He has delivered phenomenal savings to notable US companies such as the Sabra Hummus, Safford Roads and Hillshire Brands.
Expertise Accelerated pursues a hybrid work methodology that combines elements of on-site oversight with off-site resource mobilization to club local and offshore expertise to deliver its clients a high-quality yet affordable outsourcing and co-sourcing/staff augmentation service.