Trade promotion management leveraging staff augmentation services is a novel concept successfully implemented by Expertise Accelerated CEO Haroon Jafree – a Connecticut-based CPA – leveraging his decades of US CPG industry experience and niche expertise revolving around trade promotion management, business process reengineering, and cost optimization.
Defining Trade Promotions
Companies' investment in price discounts, seasonal promotions, and retailer merchandising initiatives, is referred to as the Trade Promotion Spend. As consumers, most of us have come across promotions in one or the other way. E.g., free samples, buy one get one free, cash back, lifestyle discount, flash sale, etc.
Laypersons wonder why companies would heavily invest in such promotional campaigns when they have something to lose rather than gain from it. But, in fact, companies use this as a tool to promote new customer trials and for increased purchases from existing customers.
The execution of Trade Promotions is far more intricate compared to how the average person perceives it. Trade promotion strategies are designed using a combination of historical data and contemporary variables that can affect the company's future sales. The variables involved are delicately, inextricably, and sensitively linked, such that a misjudgment in assessing a variable can turn a positive ROI on a Trade Spend campaign into a negative one.

Jafree published a White Paper titled Trade Promotion Management (TPM) in Small Companies (Revenue below $30-50 million) in which he defined Trade Promotion Spend as the amount a company pays to increase demand for its products, including—but not limited to—advertisements, coupons, and preferential shelf displays, etc. The initial listing fee, known as slotting, is paid as an outright lump sum or a free product.
Significance of Trade Promotion Management
In layperson's terms, Trade Promotion Spend is an investment that a CPG company makes in promoting its products with two primary objectives: increased distribution and brand awareness.
For food manufacturers, opting for a promotional strategy builds stronger relationships with retailers. This B2B arrangement is advantageous for retailers, as they stand to gain from increased footprint and revenue. An effective promotional strategy that translates into productive Trade Promotion Spend thus creates a win-win situation for all parties involved.
Trade Promotion Spend is usually a significant line item in the P&L of a CPG company, reflecting, usually, 20-30 percent of gross revenue. This is a key reason why Trade Promotion Management is of immense importance and needs to be optimized for a positive ROI.
However, despite its significance, Trade Promotion Spend is mostly neglected in CPG companies. While Trade Promotion Spend experts are hard to find, the management's lack of interest in and oversight of Trade Promotions Spend and the absence of competent Trade Promotion managers in companies lead to either inadequate Trade Promotion planning or promotions yielding no or negative ROI resulting in stagnated competitive growth.
What is Effective Trade Spend Management?
Setting ROI targets can be challenging, as sales and accounting teams must balance promotional goals with leadership expectations.
A miscalculation in the design or execution of the campaign can result in an ineffective campaign yielding losses. On the other hand, a well-designed and executed campaign can increase sales and brand awareness. This is only possible through a coordinated effort between the sales team executing the campaign and, a trained and knowledgeable accounting team capable of measuring success and providing prompt analysis and feedback.
Example of a Trade Promotions Campaign
A typical example of such an allowance is a price discount during the promotion period, i.e., food manufacturer Y sells Product X at $5 per unit and agrees with retailer A to offer a $1 discount per unit during the week of 11/1—11/7. In addition to generating trials from new consumers, the food manufacturer's objective is to generate profits through voluminous sales using the price discount as an incentive.
However, at the backend, the retailer deducts from the food manufacturer's invoice, the discount it gave to the consumers. This reduction of payment for such promotional charges is referred to as a Deduction.
The journal entries below provide a clear demonstration of how food manufacturer Y will account for the sale and deduction: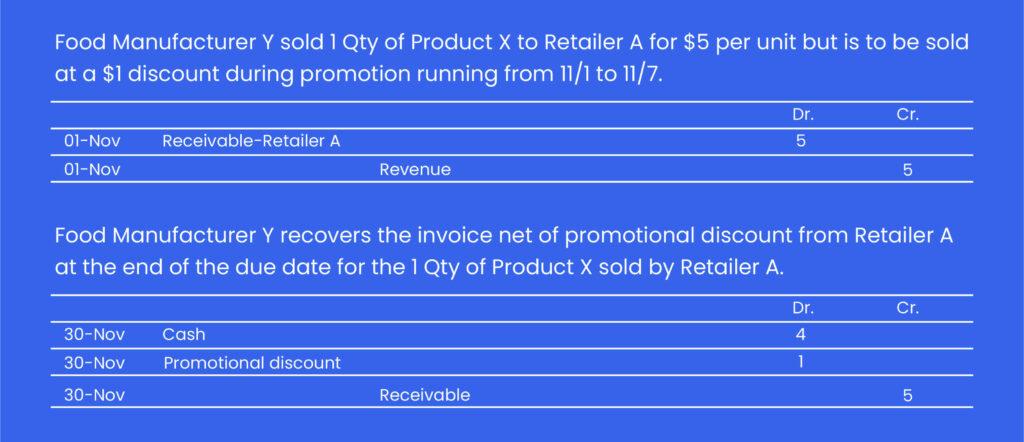 Types of Chargebacks from Retailers
Most Trade Promotion campaigns result in retailer deductions. However, not all Deductions, such as prompt payment discounts, spoils, freight charges, and warehouse allowances, represent a company's Trade Promotion Spend.
Below is a description of the most common types of Deduction from retailers specific to the Consumer-Packaged Goods (CPG)/Food & Beverage (F&B) industry.
What Leads to Successful Trade Promotions?


According to CPG expert Haroon Jafree (CPA), who is the Founder and CEO of EA, Trade promotions management is an art, not a science, so Trade Promotions Management is a design, not a calculation.
Some key variables when designing a Trade Promotion campaign are stated below:
Historical Information
Trade promotion campaigns are usually built on historical structures unless it is one of a kind or the first in the queue. The prior year(s) Trade Promotion campaigns provide a foundation for building on the latest campaigns.
Contemporary Variables
Even though historical information forms the basis of a Trade Promotion campaign, this does not mean that history will be repeated. Instead, the plan should be updated to reflect the effect of changing variables such as shifting consumer behavior and consumption habits.
For example, a promotional campaign based on seasonal trends must have the element of seasonality in it. For example, an ice cream manufacturer should not run a promo campaign in the winter if the same campaigns have been run in the Summer since inception.
Likewise, consumer buying habits must be considered. A campaign in 2020 based on the assumption that 80 percent of consumers were buying online due to COVID-19 requires revision to reflect that social distancing restrictions in 2022 are not the same as in 2020, and the foot traffic at physical retail outlets has increased manifold since then.
Retailer Deductions' Validation
As explained in Table 1 above, deductions associated with a Trade Promotion campaign can come in different forms from the retailer(s). However, due to the significance and materiality of their value, the company must ensure that such deductions are valid.
In many cases, where the company does not have a deductions validation process in place, unauthorized Deductions made in error or otherwise cause significant financial loss to the company.
Therefore, once the Trade Promotion campaign concludes, the deductions need to be validated and cleared if they are authorized deductions or contested with the retailer if they are unauthorized.
The Deductions authorization process is a complex internal audit exercise with the principal objective of verifying whether the Deduction made by the retailer is in line with the planned promotions and contract terms of the promotion agreed between the manufacturer and the retailer and conforms with the retailer selling trends.
Review and Feedback
Effective Trade Promotions Management requires extensive coordination between sales and accounting teams. Like any other process, success is not possible without prompt review and feedback. Companies deploy trained accounting resources to timely analyze the outcome of the Trade Promotions campaigns and incorporate lessons learned in planning the upcoming campaigns.
EA is your partner in your journey toward effective Trade Promotions Management
EA is one of the few staff augmentation specialists with trained accounting resources for effective Trade Promotions Management.
EA CEO Haroon Jafree specializes in business process reengineering, cost optimization, and trade Promotions management, leveraging trained, handpicked, high-quality accounting and finance professionals from EA's global talent pool for client-specific Trade Promotion roles. His staff augmentation solutions have translated into process efficiencies and six-digit cost savings for US CPG clients.
If your CPG company is facing revenue leakages because of invalid deductions but does not have the systems and experts in place, you are just a Free Consultation away from the solution.