Staff augmentation refers to the process by which a company hires contractors, consultants, or third-party service providers whose primary function is to supplement the client's existing workforce. They are typically engaged when the firm is unable to obtain or retain permanent staff, or when it needs specialized skills. Thus, the contractors function as members of the department, taking their day-to-day direction from managers. However, their paychecks come from a different company, and their assignments can be terminated on short notice without cause. Augmented staff is often indistinguishable from other members of the company.
Some firms have exclusive agreements with one service provider for staff augmentation, while it is more common for a single firm to hire contractors from a number of firms.
Most companies are in agreement with several service providers for staff augmentation because of the company's need to find the individual whose skills most closely match the relevant department's needs. The key component in staff augmentation, similar to permanent staffing, is the individual person. Thus, success or failure tends to be measured by the hired individual's competence. Hence, when companies hire contractors for staff augmentation, they may face many of the same risks that they face with their own staff, for example, contractors may not perform as expected, or they may quit before a project is complete.
According to a research titled, A Practical Guide to Staff Augmentation and Outsourcing conducted by Christine B. Tayntor: "Contractors' agreements are frequently informal, and, while engagements may be long-term, many are of short duration. From a contractual perspective, staff augmentation can be viewed as the dating stage of a relationship."
Further, staff augmentation can give firms the flexibility of short-term hiring of contractors. Companies, therefore, can move on quickly, bringing on additional staff for specific projects for the required period or tasks to be done. Most companies have a list of preferred staff augmentation firms and can choose the one whose employees most closely meet their requirements. However, staff augmentation can be costlier than hiring permanent staff for long-term projects. Contracts can cost more than in-house staff when hourly or daily rates are compared to the salary and benefits of employees.
Another concern when opting for staff augmentation is co-employment, which can occur during the long-term use of contractors. Some contractors might argue that they are entitled to employee benefits because they function essentially as employees. Thus, companies should avoid co-employment. To avoid this, companies can set a time frame in which the contractor can work for them.
When do companies usually consider staff augmentation?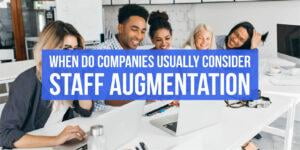 Lack of staff to meet normal workload
Companies may be unable to hire or retain sufficient staff to meet their normal workloads due to a shortage of qualified technical staff. For example, a Food and Beverage firm requiring accounting services may lack the technical staff for them. Thus, contractors are brought in to ensure effective management of the company's workload. Such staff can be viewed as temporary staff who work with the company until permanent employees are hired or the project is completed.
Permanent Staff needs additional help for a specific project
During large-scale development projects, a company may need more skilled individuals than it has on its existing payroll. Thus, instead of hiring permanent staff without long-term needs, companies can rely on staff augmentation to fill the gaps.
The company wants to retain daily control over the entire workforce
Some companies do not prefer the transfer of responsibility and task-level accountability that outsourcing demands. Therefore, such companies rely on staff augmentation for their staffing needs, without compromising their corporate culture and staff control.
Types of Staff Augmentation

When considering staff augmentation, it is important to understand its different types:
Commodity
When companies need a workforce to perform plain labor that does not require any specific skill set. This can include repetitive tasks performed daily.
Skill-based
When companies require basic skills which include typing, use of MS word, multitasking, etc. The relative level of skill may not be critical.
Highly-skilled
When companies need highly-skilled individuals who have previously been trained to gain experience in the relevant field. The level of skill is crucial. It includes accounting, IT, graphic designing, etc.
Types of Staff Augmentation Services

There are several options when it comes to hiring staff augmentation services. Thus, it is important that business owners are aware of these options so that they can make an informed decision for their company when augmenting their workforce.
Traditional Staffing Providers
Companies looking for workers to work on non-critical projects where a high-level skill is not required should consider traditional providers of temporary labor.
Master Vendor Staffing Providers
Companies searching for a large number of commodity workers at affordable costs should consider large-scale staffing firms that can meet their needs. Business owners should keep in mind that the talent quality can be inconsistent when opting for this type of staff augmentation.
Independent Contractors
Companies can also hire independent contractors without a third party such as staff augmentation or outsourcing firms. This can help business owners reduce overall hiring costs and gain more staff control.
On-Demand Talent Platforms
Business owners can also hunt for highly-skilled professionals for their projects on online platforms such as Toptal. The professional experts on these platforms are mostly highly-skilled legit individuals who start working right away, respecting deadlines and offering flexibility.
Consulting Firms and Boutique/Specialized Staffing Firms
Companies mostly rely on staff augmentation firms to hire exceptionally-skilled individuals for their tasks.
Gig Platforms
Business owners can hire independent workers on online gig platforms, such as Upwork, Fiverr, etc. However, the individuals' skill quality may vary when compared to on-demand talent platforms.
Staff Augmentation or Outsourcing?
Staff augmentation brings in extra manhours, expertise, and knowledge to a company, and with a high-quality and reliable staff augmentation partner like Expertise Accelerated, the benefits associated with it far outweigh the costs. Meanwhile, outsourcing relieves the company of the burden of mundane and non-core functions. This, too, is beneficial with a reliable service provider such as Expertise Accelerated.
Expertise Accelerated as Staff Augmentation Partner
Expertise Accelerated (EA) is Connecticut-based outsourcing and staff augmentation specialist for accounting & finance services that promises 60 percent quality-assured payroll savings to its US clients. Led by a US CPA team that boasts decades of US CPG industry experience, EA offers high-quality staff augmentation solutions geared toward delivering substantial value and cost savings to client companies. EA's staff augmentation doctrine is not based on body shopping but on remote staffing under which seasoned accounting & finance and supply chain professionals from an offshore global talent pool are trained by the US onshore team for client-specific roles so as to turn such professionals into strategic fits for the client companies.
EA's staff augmentation has proved to have delivered payroll savings, process efficiencies, and value-addition to US SMEs.