In an earlier article titled "6 Essential Benefits to Outsource Accounting Operations!", EA highlighted the many benefits businesses can reap by opting to hire an accounting firm to handle their accounting needs. Hiring an accounting firm is a major step for a business. It signifies that the business has now grown into something far greater than when it began and can no longer be held up solely by the core team. The decision to seek help from an accounting firm can be a daunting task, and, understandably, most entrepreneurs would not know where to begin with.
Indeed, with hundreds of accounting firms to choose from, making the right choice seems less than easy. Asking the right questions can help with shortlisting firms that best fit the business need. To that end, experts at EA have highlighted 5 key questions to hash out with an accounting firm before making the hiring decision.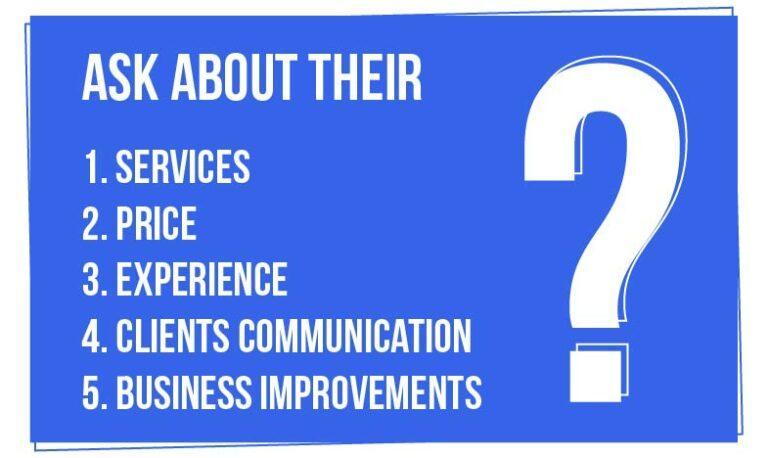 What services are available?
Accounting is generally perceived as just bookkeeping. However, an accounting function in a business context can encapsulate a variety of roles and responsibilities outside of bookkeeping, such as financial forecasting, payroll management, taxation, and auditing. An accountant is also responsible for monitoring the business's financial health and suggesting ways to improve business efficiency.
When hiring an accounting firm, it's imperative to identify what services your business requires and pick the best firm to take on the responsibility. While a standard accounting firm is good enough for most small businesses, CPA firms offering accounting and related services are the best option for SMEs and bigger companies. Having access to the treasure trove of knowledge and expertise that a CPA brings to the table is well worth the steeper price tag, not to mention the diverse skill set that encapsulates all the responsibilities of a business' accounting function.
What's the price?
Naturally, the next logical question would be to find out how much it's going to cost. Fees are difficult to pin down for accounting firms, as rates vary by state, industry, and nature of service. EA publication titled "How much should accounting cost a small business?" notes the average cost of hiring an accountant to be around the $5000 mark.
However, hiring from the global talent pool is a popular and viable alternative. Because of the steep price tag, many businesses are deterred from hiring an accounting firm. However, a service provider like Expertise Accelerated that connects US companies with high-quality trained offshore talent at a fraction of the US cost is a solution of choice for anyone seeking to gain quality at an affordable price.
How experienced is the firm?
Nobody wants to hand over their delicate financial data and matters to just anybody. With the existence of fraudulent service providers in the market, it is important to verify the legitimacy and competence of the firms you are considering. Therefore, simply asking for experience is no longer enough. Entrepreneurs must ask for the firm's portfolio of prior projects and clients and verify their legitimacy by contacting businesses that partner with that firm. Taking the extra step to make sure you are not being swindled is necessary for this day and age.
After verifying the legitimacy of the firms in consideration, it is time to consider their experience in your industry. Finding an accounting firm that can provide insight into the market through industry-experienced professionals is an invaluable asset. For example, Expertise Accelerated CEO Mr. Haroon Jafree (CPA) is a veteran in the US CPG industry, boasting decades of experience dealing with the ins and outs of the CPG companies. Hiring consultants with such niche and unique expertise can be immensely rewarding in the long run.
How can clients communicate with the firm?
Communication is key when we are talking accounting and related services. Maintaining a steady and constant line of contact between the accounting firm and client business is a must in 2022. Meeting in person is a thing of the past now, especially in the post- Covid era. Communication boundaries have long been destroyed with the advent of online communication technologies. In fact, 58% of entrepreneurs do not expect to meet their accountants face-to-face going forward. Today, a business owner in the US can hire and effectively communicate with professional talent at the other end of the globe and this has become possible through remote work infrastructure.
With communication made so easy, it is reasonable to expect a firm to have a direct line of contact available with the entrepreneurs without physical or personal meetings. Whether it be through digital meeting software like Zoom or Microsoft Teams, or a regular phone call, hashing out communication matters and ensuring transparency in dealings is necessary when searching for the perfect accounting solution.
Can the service provider add value to your business?
A very important question before hiring an accounting firm is whether it can add value to your business. After all, hiring an accounting firm is a big undertaking and an investment for the future. It is necessary to ask what difference would hiring the firm make to the business and how. By asking this question, it becomes easy to separate the wheat from the chaff and assess which firms can truly bring something special to the business. Expertise Accelerated brings in decades of CPG industry experience, high-quality trained remote professionals and assured payroll savings and process efficiencies.
Keep questioning
These 5 questions are by no means all there is to hiring an accounting firm. In fact, these are just the tip of the iceberg. What's important is to keep asking questions and sort out all concerns before making the hiring decision. These 5 questions should serve as a good foundation for entrepreneurs to build on and search for the perfect accounting firm for their specific needs.