Real estate is a highly scalable business, and many have made fortunes out of it. An erstwhile janitor, Sean Conlon, for example, became a self-made millionaire through his success in the real estate sector. However, in order to gain an upward trajectory, it is imperative that mistakes are avoided, especially the very common ones, such as bookkeeping errors. Real estate businesses can suffer from bookkeeping errors such as poorly maintained financial records, mixed-up personal and business transactions, poorly or misclassified personnel details and expenses, weak or no backup, and like. While personal intervention and hiring an accountant would help, an even more affordable, efficient and off-the-shelf solution is hiring third-party services, such as General Accounting and Bookkeeping, which Expertise Accelerated – an outsourcing and staff augmentation specialist – offers with promises of quality assurance and 60 percent savings on your payroll cost.
What bookkeeping mistakes a real estate business will make?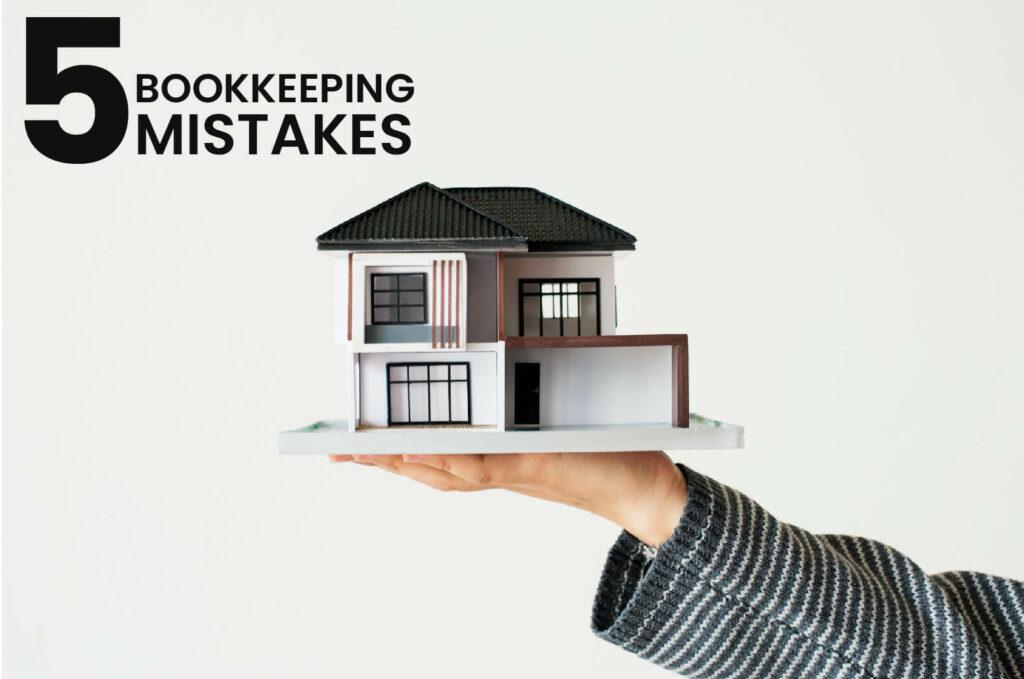 According to Fortunly, 29 percent of small businesses fail because they run out of cash, the primary reason for which is cash mismanagement. The first step toward cash management is maintaining up-to-date and error-free books of accounts. It is, therefore, important for businesses, particularly the smaller ones – including those dealing in real estate, to avoid committing errors in their financial records.
Below is a brief discussion on some of the common mistakes real estate businesses make. These mistakes are more common with relatively smaller real estate businesses. It goes without saying that real estate businesses need to avoid these mistakes in order to have a clear picture of their state of financial affairs and hence the ability to make informed decision-making.
Indistinguishable personal and business transactions
It is a common tendency among real estate owners to records business and personal transactions in a single account, without marking them as business or personal. This results in pile-up of a financial record in which the personal and business transactions become inseparable, hence, presenting a gloomy picture of what the business gained or lost over the course of a particular financial period.
Undertaking financial transactions from personal bank account
In many cases, real estate owners avoid the hassle of using a business bank account and transacting the deals from their personal bank account. Although seemingly convenient, it makes it impossible for the business transactions to be tracked and, hence, recorded in the books of accounts. In order to avoid ambiguity and have a clearer picture of cash inflow and outflow for the business, the real estate owners need to undertake all business transactions from their business accounts.
Misclassification of expenses
It is common with real estate businesses to have misclassified expenses, especially with payments made to freelancing sales staff. Freelance sales are a norm in the real estate market, and salesperson like these are paid out a commission on every matured deal. In some cases, the salespersons are paid a salary and a commission on top of it. However, many a times, these payments appear as misclassified expenses, and lead to adverse tax repercussions for owners.
Lack of data backup
In many cases, tech adoption is slow. But even if you are too small to embrace augmented reality, you are still advised to have backups in place for your financial data. Cloud storage is the most suitable and hi-tech backup facility in contemporary times, but any other suitable backup plan would be helpful. Smaller real estate businesses do not have recovery and contingency plans in place in case there is a loss of data; therefore, in case of a system breakdown, there is no chance for recovery, and the data loss is likely to have serious repercussions for the business and its owner's financial and tax matters.
Saving on finance
A common misperception among the small business owners, including real estate agents, is that finance is something they can do by themselves, and the bid to save the accountant's salary ends up costing them dearly, especially when their financial records are erroneous at the end of the accounting period. It is, therefore, important for the real estate owners, especially when they are in the process of scaling up their business, to either have a dedicated in-house finance resource or an outsourcing or staff augmentation partner who can take care of the company's accounting and finance requirements.
Saving on finance cost amid soaring inflation
Accounting & finance resources are not always cheap, not at least these days when the labor market crunch and soaring inflation have led to professional accountants demanding compensations more than ever before.
A way out of this dilemma is outsourcing and/or staff augmentation. However, the outsourcing and/or staff augmentation partner is essential, because if you choose the wrong one, the payroll cost savings you will gain will be offset by the poor quality of the hired resource.
You are, therefore, strongly advised to hire services and/or professional resources from outsourcing and/or staff augmentation partners that provide quality assurance and will continue to oversee the performance of the professional resources provided to the client.
EA as your outsourcing and/or staff augmentation partner
Being an outsourcing and staff augmentation specialist endeavouring to deliver payroll savings to US businesses, Expertise Accelerated offers a full spectrum of quality assurance as a policy matter, starting from the recruitment of the professional resource until its amicable absorption into the client company.
EA Outsourcing Methodology
Expertise Accelerated pursues a hybrid work methodology that combines elements of on-site oversight with off-site resource mobilization to club local and offshore expertise to deliver its clients a high-quality yet affordable outsourcing and/or staff augmentation service.
A word about Haroon Jafree (CPA)
Haroon Jafree is a Connecticut-based Certified Public Accountant who is an expert at optimizing cost through outsourcing and staff augmentation solutions. Additionally, he specializes in CPG and retail industry-related trade promotions management and has served years at C-suite levels in notable US companies, delivering phenomenal cost savings through process redesign and reengineering. He is the CEO of Expertise Accelerated.